I am pleased to finally announce that I was selected from thousands of entrants from all over Europe to be a finalist in the Sky Arts Master of Photography competition, which is currently being shown on Sky TV and Now TV.
With a prestigious prize of €150,000 and a solo exhibition on offer, I was very happy to have been selected alongside 11 other contestants. The first task was filmed in Rome, and our challenge was to depict The Great Beauty – Art in the City.
The competition is hosted by the great Isabella Rossellini and the three judges are Rut Blees Luxemburg, Simon Frederick and Oliviero Toscani.
Episode 1 features guest photographer Alex Webb.
Click the image below to see my profile and some video clips on the Master of Photography website
After a few days of studio set ups, filming, "costume" choices and not having a clue what we were going to be faced with, we started off with filming the first episode in the studio, then some interviews and more studio filming. We got told about the task at about 10pm and got back to our apartments (after filming all day) midnight. We got the map in the morning of the task showing where we were allowed to shoot, so had no time the night before to plan where we could go –  It was a big challenge and I was so excited I could hardly sleep the night before, and then my alarm went off at 4:45 for our pickup at 5am.
I had many ideas but some were not possible due to restrictions/limited time/permits.  I would have loved to shoot inside the Colosseum, I had a vision of tourist's feet, socks in sandals style, from below with the great building in the background, but we could not go inside. Another ideas was blurred traffic and an impressive city view – no Big Stopper and it was too bright when we started filming and when the task countdown started. I had an idea for shooting at Parco degli Acquedotti or Villa Medici but these were outside the boundaries to shoot in. And another, inside the Capitoline Museum to shoot Marforio's Roman sculpture. We were on our way there and had a permit, but we were refused entry.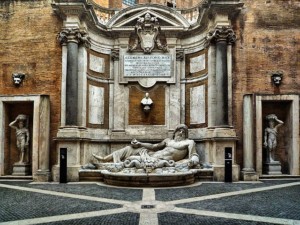 Photo by Davide Cherubini
I felt under a lot of pressure. I wanted to progress further in the competition, I wanted to create a great photo which would be shown on TV to millions, and I wanted to be able to convey my ideas well on camera. I take my time shooting these gorgeous locations on my usual trips, and here I was on a 6 hour time limit in a busy city, with lots of talking to the camera required.
In the end I had to forget that I shoot abandoned buildings week in, week out, and soak up the atmosphere of Rome. It was good to get out of my comfort zone and include people in my frames.  Unfortunately I don't have the images to add but will update the blog when I do.  I photographed various subjects, a nun's profile outside the Pantheon, an apartment block looking up toward the sky, city views, beggars outside designer shops and a church, people dressed to the nines walking their dogs silhouetted against the harsh sun, and a fashionable Roman man walking down a colonnade.
As a fine art photographer, I would have loved to shoot in the Garbatella district or Villa Adriana near Tivoli after visiting them recently.
Garbatella District
Villa Adriana
So back to the task in places I could shoot in, one of my last shots was inside the great Pantheon. I wanted to photograph this incredible building without anyone inside – an impossible feat really. Once I set up my shot on the tripod, I had few people in the frame and was hoping they would move quickly enough to blur, which wasn't the case for all. Then a Japanese tourist wandered into the frame, and stopped dead central. He then got out his phone and started to photograph himself. I sensed an opportunity for irony, being inside this incredible building and photographing yourself. I thought it was quite astounding – even in the selfie age. It was one of the first things he did inside. So that is my honest take on the task – "The Great Beauty"
I felt I didn't pander to the judges and I stuck to my style of grand interior photography, whilst depicting art in the city and the great beauty of Rome, and an observation on this age of the selfie-obsessed society.
I'd love to know your thoughts!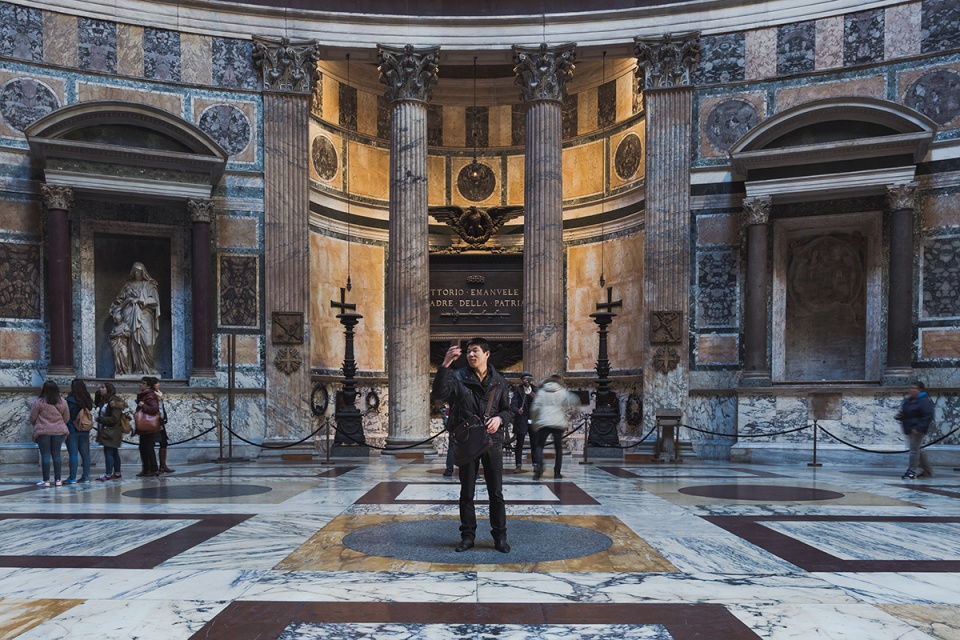 "The Great Beauty"
It really was great to meet the guest star Alex Webb. He is a fantastic photographer. The other contestants work was great too, I especially enjoyed seeing Yan Revazov, Sebastien Siebel, Laura Zalenga, Mary Stuart and Gabriele Micalizzi's work.
It was a unique experience, albeit rather short, but I met some great friends, had the chance to use some amazing Leica equipment shooting different subjects and got to stay in Rome for a few weeks. It was fantastic to have my artworks shown on Sky Arts TV to millions, and I'll always be proud that I was shortlisted from thousands of people who entered down to the final 12.