Have you ever wondered how a day in the life of a fine art photographer looks like? Well, from my own experience I can tell you that every day is different, it's interesting and fun (especially when I am working on location)
I've been a fine art photographer for several years now (6 in fact, 2 years full time) and I specialize in photographing abandoned buildings. I like to photograph spaces that aren't abandoned too. The good news is that there are quite a few abandoned buildings in London (where I am based) and many in the rest of the UK and thousands abroad. There is something about entering these buildings and taking photos that grips me and has done for a long time.
One of the best things about my job is the fact that every day is different. Getting an opportunity to travel and explore things and to choose when and how you spend your time can make you quite enthusiastic about your job. When I am on location producing the work I usually start very early,  (sometimes sleeping inside the buildings to get the best light or to avoid curtain twitching neighbours) I have all my equipment with me and then visit the abandoned buildings that I have selected in the past few days – I do a lot of research. I used to plan meticulously – making a time plan, how long I was going to be in there, how long it took to travel between each location, the sun's position at that time of day, where I was going to eat and sleep. I have learnt over the last year or two that things are much better with flexibility. It saves me a lot of time planning before hand and stress, and you just never know what is going to happen in these places, how long it will take to get in, what you have to avoid – unless I organise a permission visit.  Without any doubt, this is a job that can provide real adrenaline rush! I have quite a lot of experience in these places, so no matter what they throw at me, or the weather… I am confident that I am able to take some impressive photos that present these abandoned buildings in the best light.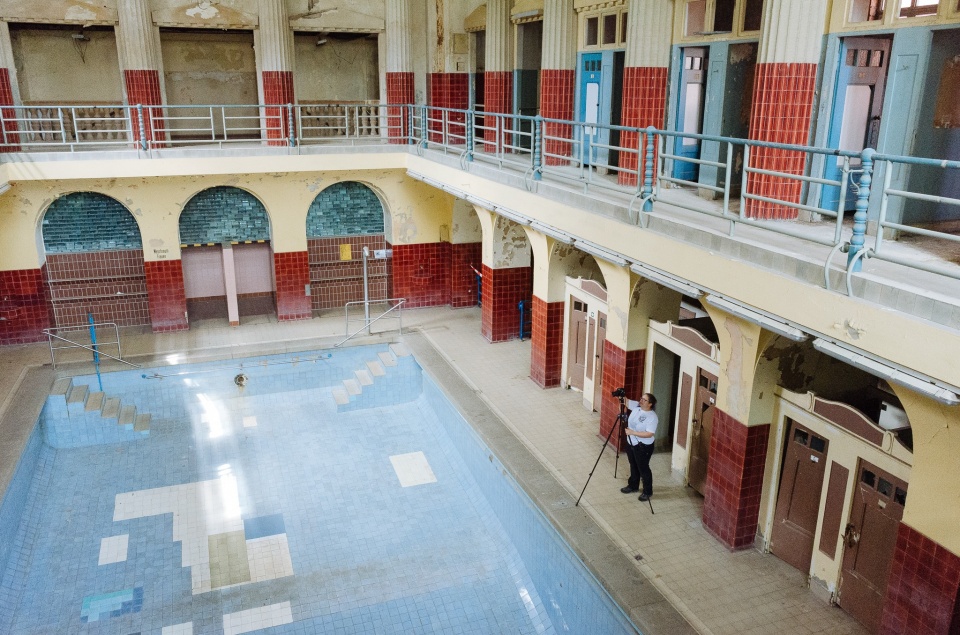 When I am not working on location, my day is much different. Just like most people, I am checking emails. I try not to, but this seems to be the first thing I do early in the morning – I try to stay on top of them but this can sometimes be the hardest part of my job! After that, I nearly always grab a strong cup of tea or coffee, eat as little as possible (I hate breakfast unless it's warm and consists of  delicious things) walk my dog to my studio and inhale as much fresh air as I can on the way.  I am inspired by nature all around me so starting the day with a walk is great for me as I find it hard to switch off from work.
In order to get the job done, I need to have a to-do list – I have got better at prioritizing things but to be honest, I've never mastered that and when I look at my to-do list I usually start panicking, so I have to do another to-do list and highlight my true priorities!
Social media updates occur once a day if possible – although I don't share my work constantly, (I have thousands of photos I have edited that have not seen the light of day)
I'd rather people see it in the flesh that online and I have become quite a strict self curator of what is seen online. Writing up interviews is another thing that I usually do regularly. Blog posts too with news and articles. I try to write a newsletters once a month if possible. This can take a long time as I am a master procrastinator.
Editing images is probably part of the day in the life of every fine art photographer, so I am not the exception. I also create some new work and print off test sheets so I can check whether everything looks fine. Ordering prints for clients and calling framers, printers, and suppliers, couriers, organizing exhibitions and lately trying to find an artist studio in London – these are some everyday activities that are part of my life. With so many activities on my plate, it is not unusual that I actually forget the real plate – I forget to eat lunch. After that, I walk the dog home and either finish the things from my to-do list that were not that important until about 8pm. Now that I have finished all my professional tasks I have time to remember to eat dinner and watch some cool world cinema movie or TV shows for a bit of inspiration or to unwind. My day ends nearly always with a bath with a Lush bath bomb!
Of course, my days when I am not working on location are generally like this, but I have completely different days from time to time. Museum hopping and meetings in London, arranging other shoots, arranging commissioned work, attending private views and meeting other artists and having "artist lunches" Those are the days I do remember to eat lunch 😉
What makes the days even more exciting is the opportunity to showcase my fine art photography work in fantastic galleries and art fairs. It is great to get all sorts of feedback and discuss the work with a huge variety of people.